Breakfast: Heaping plates and hot coffee served up daily at Avenue Grill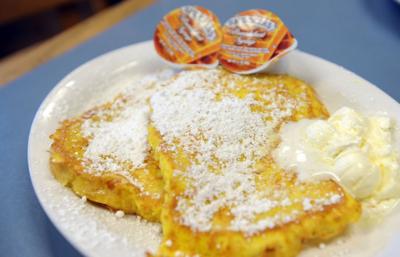 I'd tell you to hit up Avenue Grill, located on Lodi Avenue, during a slow hour to avoid the crowds in their packed dining room, but they don't appear to have any slow hours.
Owner Michael Metcalf has run the restaurant for about 19 years. His staff of kind and attentive waitresses are quick with coffee and drinks. The place is open daily through lunchtime, where the favorites are juicy burgers and carnitas quesadillas, but the real show here is the breakfast menu.
Larger-than-life portions of sweet French toast on sourdough bread, heaping potato platters fried up with peppers, onions, bacon and ham and pancakes bigger than your face are all popular orders.
This is the kind of meal I like to have to kick off a lazy Saturday. I'll sleep in late, then meet friends at Avenue for a lingering breakfast over coffee and cups of hot chocolate topped with thick whipped cream. After the plates are cleared and the bill is paid, we'll wander Downtown, go see a movie or taste a glass or two of a new release from a favorite winery.
The best part? There's always enough food on my plate to warrant a to-go box. So on Sunday morning, when I'm up early and getting ready for church, I can enjoy breakfast all over again.
Avenue Grill is located at 506 W. Lodi Avenue. They are open daily from 6 a.m. to 2 p.m., and stay open until 3 p.m. on Saturday. Call 209-333-8006 for more information.